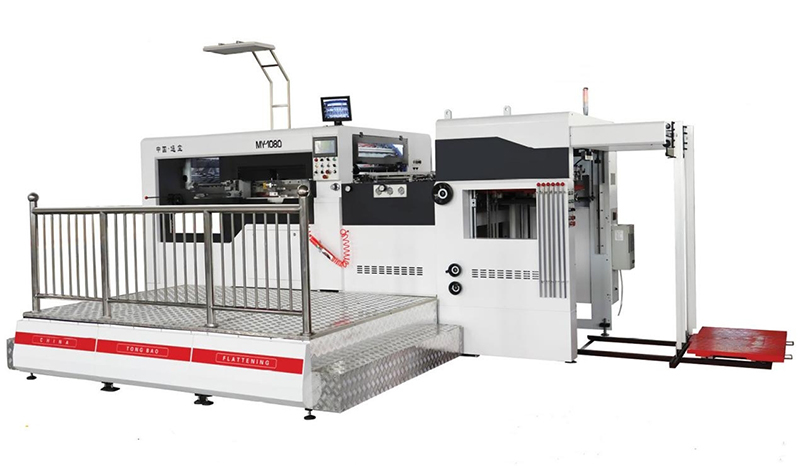 Function and characteristics:
1.This machine has a powerful four - suction and four - deliveryfeeder which can adjust the angle of suction with the paper deformation, and blow the paper separating device to facilitate paper separation.
2.Air separation device for paper separation.Mainly used for cardboard, map, E、B flute corrugated paper.
3.The main chain (Germany) adopts heavy load and high precision transmission chain, with very small production error, high tensile strength and wear resistance.
4.The gripper row is made of high quality superhard aluminum alloy profiles, and the surface is anodized to ensure the completion of die cutting process.
5.It has overload protection mechanism, to achieve accidental overload, active separation of the die - cutting board frame can effectively prevent the die - cutting board sagging and fall off.
6.Pneumatic lock plate mechanism adopts imported cylinder, stable performance, convenient and fast operation.
7.Intermittent mechanism can achieve smooth transmission, accurate indexing, and ensure the accuracy of die - cutting.
8.The electric control system is controlled by PLC and equipped with various safety protection devices, which can give audible and visual alarm in case of failure and shut down automatically, truly guaranteeing the man-machine safety.
9.The timing and quantitative automatic oil supply system can ensure the full
lubrication of other moving parts of the machine and have long service life.
Technical Parameter:
| | | | |
| --- | --- | --- | --- |
| Model | MY-1080 | MY-1300 | MY-1500 |
| Max Paper Size | 1080*780mm | 1300*850mm | 1500*1100mm |
| Mini Paper Size | 400*370mm | 400*380mm | 400*380mm |
| Max Die Cutting Size | 1070*760mm | 1285*830mm | 1490*1080mm |
| Mini Size in Mouth | 5mm | 5mm | 5mm |
| Max Die Cutting Pressure | 350N/cm2 | 350N/cm2 | 350N/cm2 |
| Cardboard | 200-2000g/m2 | 200-2000g/m2 | 200-2000g/m2 |
| Corrugated Cardboard | ≤ 6mm | ≤ 6mm | ≤ 6mm |
| Max Die Cutting Speed | 7000sheets/h | 5000sheets/h | 5000sheets/h |
| Max Feeding Pile Height | 1000mm | 1000mm | 1000mm |
| Max Collecting Pile Height | 1000mm | 1000mm | 1000mm |
| Total power | 15 KW | 17 KW | 25 KW |
| Weight(without stripping part) | 16 T | 18 T | 22T |
| Weight(with stripping part | 17 T | 19.5 T | 25 T |
| Dimensions(without stripping part) | 5700*2170*2245MM | 5968*2170*2245MM | 5968*2170*2245MM |
| Dimensions(with stripping part) | 7200*2170*2245MM | 7468*2170*2245MM | 7468*2170*2245MM |