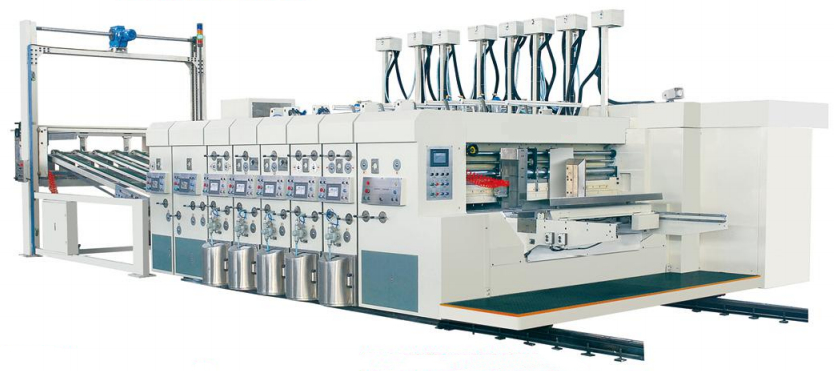 General Features:
►The whole machine is designed and made according to high
requirements with reliable and safety function;allows quick order
changing and user friendly operation;
►Select the excellent materials and parts,all orders are made of the fine
steel,with chrome plating and harden treatment;
►Driving gears are imported products,its grinding hardness is above 60
degrees;
►Adopted joint ring-free technology,to reduce abrasion and achieve
precise printing result;
►With automatic zero setting and reset function;


Printing Unit:
►Printing register is digitally controlled by motor and PLC.
►Transverse register is also digital controlled by motor and PLC ±10mm.
►Quick set and self locking pull collars.
►A fixed device of printing register and brake of electromagnetic clutch is used when the unit is opened.upon closing the unit,the positions are precisely restored so the unit is ready for production without adjustment.
►Cleaning function can be automatically switched to ensure the ink recycling thoroughly.



Slotting Unit:
►Single shaft five blades slotting ,an internal gear adjusts the height of the carton box and prevents the lubricating oil from spilling or leaking onto the cardboard.
►The first pre-creasing,the cardboard not be damaged after prepressing.
►Upper creasing roll covered by anvil ring,so cardboard is not damaged easily.
►Slotting bosses move along liner lead rails and are driven by lead screws for flexible and precise movement.
►Slotting register and height of carton box are digital controlled by motor and PLC.
►Transversal movement of the pre-creasing rolls,and slotting bosses' are digital controlled by motor and PLC.



Die Cutting Unit:
►with separate servo motor.


►Side to side oscillation of anvil drum(45mm).
►The die drum's transverse movement can prolong the service life of anvil cover.
►Die-cutting register is digitally controlled by motor and PLC.
►The die-cut cylinder lateral register is digitally controlled by motor and PLC,rang about±10mm.
►Motorized caliper adjustment between anvil roll and die drum.
►Auto speed compensation system controlled by the independent motor can achieve the superb die accurac.
Technical Parameter:
Model

920

1224

Max speed(pcs/min)

250

180

Max paper feeding size(mm)

900*2200

1200*2600

Max printing size(mm)

900*2000

1200*2400

Min paper feeding size(mm)

280*680

350*680

Max depth of slotting(mm)

230

300

Die cutting precision(mm)

≤±1.5mm

Printing precision(mm)

≤±0.4mm(4 color)

Printing plate thickness(mm)

7.2

Paper thickness(mm)

2.5-12

Min slotting interval

Normal

160X160X160X160

Reverse

300X60X300X60